The church of Santa Maria Novella
You can reach the church of Santa Maria Novella from the Duomo (cathedral) by taking via de' Cerretani and then in its extension via dei Banchi.
Address: Piazza Santa Maria Novella
Times: Monday to Saturday from 10:00 am to 5:00 pm and Sunday from 1:00 pm to 5:00 pm.
Price : 7,50 €.
The Dominicans first occupied a modest church of the eleventh century and, due to the success of their predictions, it was enlarged for the first time. In 1470 the architect Leon Battista Alberti was commissioned by the Rucellai family to enlarge the facade, but keeping the lower part, already inlaid with marble, and above all safeguarding the 6 tombs of famous Florentines in enfeu (i.e. embedded in the thickness of a wall). A wide band decorated with square inlays and 2 marble inlaid volutes connect the upper part to the lower floor.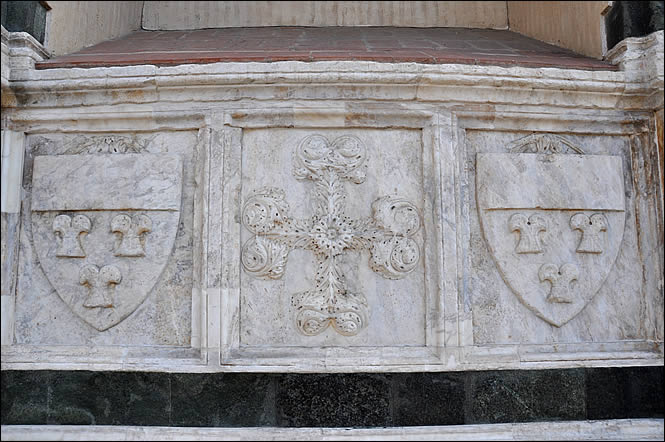 You enter the church through the ancient cemetery of the noble families of Florence and are immediately struck by its size, accentuated by an optical effect: the columns are gradually drawn together to give an impression of depth.

But it is especially for its frescoes that the church attracts so many visitors. On the left wall the fresco of the Trinity by Massacio was one of the first works of the Renaissance where mathematical concepts were used to create a three-dimensional effect. The sarcophagus revealing a skeleton under the portraits of the donors is a trompe l'oeil.

In the apse of the Tornabuoni Chapel, the frescoes of scenes from the life of the Virgin and St. John the Baptist are by Domenico Ghirlandaio. He integrated views of Florence and contemporary characters. They are certainly the most beautiful and lively of the church.
In the Filippo Strozzi Chapel, Filipino Lippi illustrates the life of Saint Philip the Apostle.
The Gondi Chapel houses Brunelleschi's crucifix.
The Strozzi di Mantova chapel is decorated with frescoes by Nardo di Cione and his brother Orcagna, inspired by the Divine Comedy of Dante. The latter is represented in the one of the Last Judgment.