The church of Santa Felicita
The church of Santa Felicita is located in piazza Santa Felicita, which can be reached from the Duomo (cathedral) by taking via Roma and the streets that run parallel to it, via Calimala and via Por Santa Maria. Cross the Ponte Vecchio to reach Piazza Santa Felicita and the church of the same name.

Address: Piazza Santa Felicita

Times: daily from 9:30 am to 12:30 pm and from 3:30 pm to 5:30 pm, closed on Sunday.

Price : free of charge

The church, built in the 11th century and rebuilt in the 14th century, was part of a Benedictine convent.

The present church dates essentially from the 18th century. The gallery above the portico is a portion of Vasari's corridor (the protected passage that the Medici used to reach the Pitti Palace from the Palazzo Vecchio). A window allowed the Medici to listen to mass without being seen from the nave.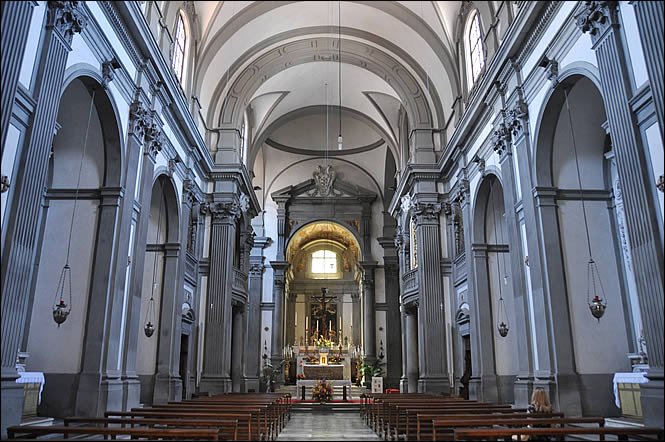 In the church there is the Capponi Chapel designed by Brunelleschi. The painter Pontormo, who worked here from 1525 to 1528, painted an extraordinary Deposition of Christ. The dead Christ is carried and surrounded by brightly dressed figures in unusual shades of purple, green, pink, blue-gray and orange-yellow. It is a masterpiece of Mannerism - the period between the Renaissance and the Baroque. He also painted the four Evangelists in the pendentives of the vault.