The church of San Miniato al Monte
The church of San Miniato al Monte is located on the hills of Florence, in via del Monte alle Croci, near Piazzale Michelangelo.
Address: 24 via del Monte alle Croci.
Opening hours: every day from 9:30 am to 12:00 pm and from 3:00 pm to 6:00 pm. Sundays from 3:00 pm to 5:30 pm.
Price: free of charge
In 783 Charlemagne granted property to erect a chapel to house the body of San Miniato who was beheaded during the persecutions of Decius. In the eleventh century Emperor Henry II financed a new building, but the present building developed mainly from the eleventh to the thirteenth century thanks to donations from the guild of cloth merchants.

The white and green marble facade clearly shows the three phases of construction. The lower area has blind arcades, the middle area and the mosaic of the twelfth century, representing Christ in Majesty, is already of more complex execution, the triangular pediment has even more marked decorative elements.
The interior is a basilica with three naves, without a transept, with a polychrome wooden frame. The columns and capitals are from different periods, as they were taken from Roman and Byzantine buildings. The paving, in marble inlay, alternates geometric elements and representations of the zodiac. In the center of the nave, the tabernacle built in 1448 is by Michelozzo.
A staircase leads to the elevated choir whose apse is decorated with a mosaic of 1297 also showing a Christ in majesty.
The crypt is from the 11th century. It houses the relics of Saint Miniatus and has seven naves separated by ancient columns.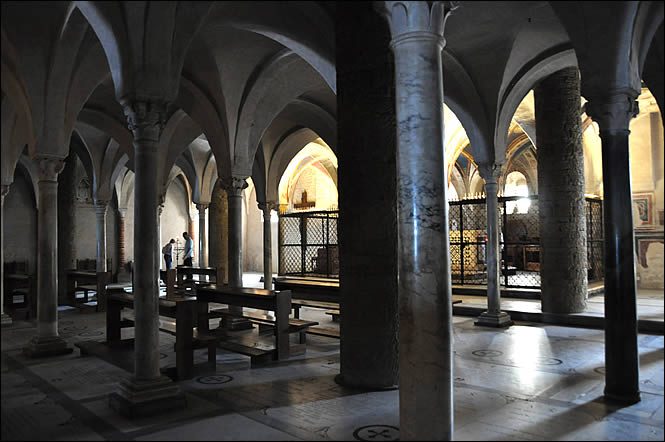 The Chapel of the Cardinal of Portugal, built by Antonio Manetti in 1461-1 466, contains the body of the nephew of Alfonso V of Portugal. The vault was decorated by Luca della Robbia and the marble funeral monument, of extreme delicacy, is by Antonio Rossellino.

The Gothic sacristy is decorated with frescoes representing episodes from the life of St. Benedict. The walls of the church are also frescoed.